The helicopter crashed into a tall building in New York
时间:2019-06-11 08:56来源:未知责任编辑:张焱
Hong Kong Daily telegram (CAN reporter Xue Feng) A helicopter accident shocked the bustling center of New York City at 01:43 local time on June 10, New York. The New York City Fire Department reported that a helicopter crashed on the roof
...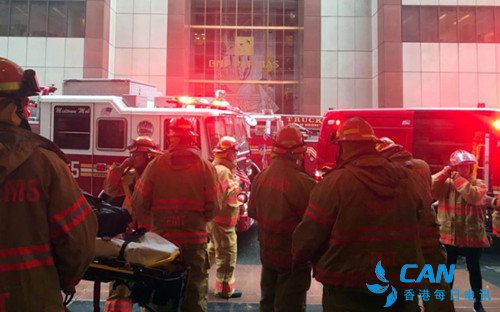 Hong Kong Daily telegram (CAN reporter Xue Feng) A helicopter accident shocked the bustling center of New York City at 01:43 local time on June 10, New York.
The New York City Fire Department reported that a helicopter crashed on the roof of a skyscraper in the heart of Manhattan. The pilot has died on the spot.
The accident occurred at 787 Seventh Avenue, between Seventh Avenue and West 51st Street and 52nd Street, at AXA Securities Building. Tenants of the building include Citibank, Bank of Paris, UBS, California pension funds and a number of internationally renowned law firms.
Map data show that the building is located in the most prosperous core of New York, at the north end of Times Square. The building is not far from landmarks such as Rockefeller Center and Carnegie Hall, and can also look at the East River in New York and the famous Central Park.
In addition, the AXA Securities Tower is not far from the Trump apartment in New York, and the area of the building has long been classified as a "no-fly zone" by New York City.
White House spokesman Hogan said Trump had been informed of the accident and said he would keep a close eye on developments.
New York's emergency management has evacuated buildings within a few blocks. From the NBC live link, there was smoke on the roof of the hit building. According to architectural experts, the AXA Securities Building has a relatively short roof design, raising concerns about whether people in the top floor have an escape response time.
However, as of 5: 00 a.m. Beijing time on June 11, there were no formal reports of casualties in the AXA Securities Building.
(责任编辑:张焱)
------分隔线----------------------------